Events Schedule
All in-person events have currently been postponed in response to the COVID-19 outbreak. For the most current updates about the University of Amsterdam's actions towards the outbreak, please visit www.uva.nl/actueel/coronavirus/coronavirus.
We hope to be able to update everyone shortly as to when the postponed events will now take place. Stay safe and keep up to date on all of the advice (https://www.who.int/emergencies/diseases/novel-coronavirus-2019/advice-for-public).
Online brussels trip
Are you interested in exploring career opportunities in the field of EU law while also learning about how Brussels-based institutions, law firms and NGOs work?
Join us for our Online Brussels Trip in 2021! ACELG (Amsterdam Centre for European Law and Governance) organises together with Eureka a week of interesting virtual talks with professionals working at the European Commission, the European Parliament, the Permanent Representation of the Netherlands, ClientEarth and two international law firms practicing EU competition law (Baker Botts and Van Bael & Bellis) in Brussels.
When?
The Online Brussels Trip takes place from 1 to 5 March and is a week of daily online meetings taking place in the late afternoon:
Monday (1 March), 17 – 18 h: Permanent Representation of the
Netherland to the EU
Tuesday (2 March), 16 – 18 h: European Commission
Wednesday (3 March), 17 – 18:30 h: European Parliament
Thursday (4 March), 17 – 18 h: ClientEarth
Friday (5 March), 15:30 – 19 h: Van Bael & Bellis and Baker Botts
Where?
The meetings will take place on Zoom. The link to the Zoom meeting will be distributed closer to the event.
Registration is open to all law students of the University of Amsterdam (Bachelor & Master). Please make sure that you sign up before 21. February 2021.
secret santa: the book edition
After a busy semester of study, it is now time to finally enjoy what we read. Participate in the EU-reka Secret Santa book exchange!
How?
Choose one of your favorite books and send a copy to your partner so that he or she can enjoy it during the Christmas vacations. In return, your Secret Santa will send you his or her favorite book. You will be randomly assigned to a person.
You must not reveal your identity!
Why?
It is a great occasion to get in touch with each other by picking out a book for your partner that you think he or she might love, and it gives your Secret Santa the opportunity to do the same for you.
Open your mind by reading something completely new for you or maybe something you have always wanted to read and enjoy your holidays.
Make sure you send us a note by email telling us why you loved that book and we will forward it to your partner without revealing your identity. Once you have received your book, don't hesitate to send us a photo and a guess who your Secret Santa is.
Coffee Break – wednesdays
Coffee morning for students of our two tracks. Have a break from work and catch up over a hot drink or two. Multiple online rooms means you can have a chat in smaller groups, so no problems of big Zoom calls.
Link will be posted in the WhatsApp groups and on social media. You can check out the Facebook event here: https://www.facebook.com/events/755972048270542/
We look forward to seeing you all again!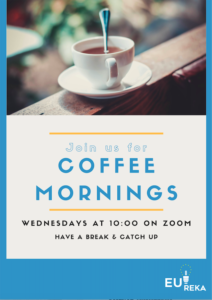 European Intellectual Property lecture
Koos Rasser, legal specialist in patent rights, gladly accepted to hold an online lecture on IP law. After graduating from Delft university as a PhD student in chemical engineering, Koos studied at the Northern Kentucky University to become a doctor of law. His work path is international and quite impressive, from legal specialist for Procter and Gamble, to counsellor at Howrey LLP for years, he is now counsellor for a company that identifies worthwhile inventions and helps their maturation into licensed products.
His lecture will focus on the different forms of IP rights, the interplay of International Law, EU law and national law for each of these forms of IP. He will go deeper into technology transfer in Competition law and will provide us with an overview of patent law in the EU.
Contact
For any questions concerning events or registering for an event you can email us at info@eureka-uva.com or use the contact form here.
Looking to become a member?