Who We Are
Say hello to this year's board! We are more than excited to welcome you to a new academic year full of new discoveries and adventures. The board is here to make sure that the study association is operating perfectly, while offering students the best experience in their LLM here at UvA.
We are responsible for coordinating the activities for students which are both for learning, as well as communicating and having fun. The board is closely connected to the committees which make sure to organise different events for our fellow students.
We are happy and enthusiastic to see where this year will take us, but we are ready to be taking this role together.
Board 2022/23
From left to right: Justin Heijmans, Valentina Purluca, Charlotte Vanderbemden, Viktorija Doviltis, Laszlo Szilard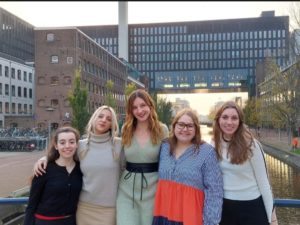 academic Committee
From left to right: Ines Aoudjhane, Marta Nobre Vilhena Novais Goncalves, Charlotte Vanderbemden (Board), Teresa Boyer and Cindy Vos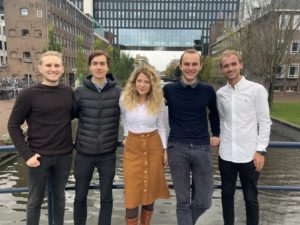 Social Committee
From left to right: Daniel Plum, David Oberman, Valentina Purluca, Bart van Driel, Marlon Gruetzner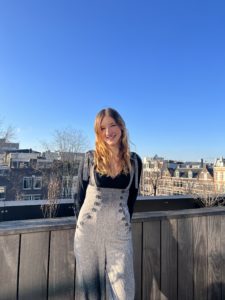 Charlotte Vanderbemden
Chair
Charlotte Vanderbemden is the Chairwoman of EU-reka for the 2022/2023 academic year. Following a BA in European Studies and an LLM in European Union Law at the University of Amsterdam, she is now pursuing a second LLM in European Private Law. She is very excited to make EU-reka thrive as an association for all students, allowing them to meet one another at social events and giving them more perspective for their future endeavours through academic and career events. She looks forward to seeing you all again soon!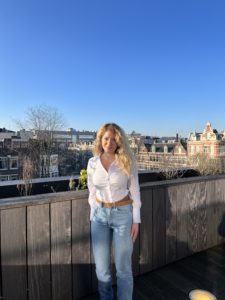 Valentina Purluca
Vice Chair
Valentina Purluca is the Vice Chair of this year's board. After finishing her Bachelor in European Studies, she decided she wanted to take on a challenge and study her LLM in European Competition and Regulation Law. She is excited to promote a different side of the university life, to help students connect with each other, and have an unforgettable experience here at UvA.
She is looking forward to organising interactive events, to get to know as many students as possible and to expand the association. She is also the Head of the Social Committee, a committee that will help her put together great meetings and parties for the European Law students.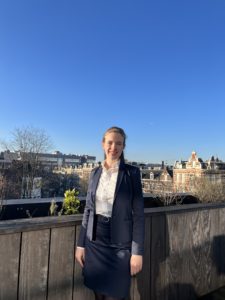 Viktorija Doviltis
Secretary General
Viktorija Doviltis is the General Secretary of EU-reka for the academic year of 2022/23. She acquired an LLB in Global Law at Tilburg University before coming to the University of Amsterdam to join the European Union Law LLM programme. She makes sure that EUreka members are all up to date on the latest news and upcoming events through the newsletter, and is in charge of the association's communications. Viktorija also takes care of EU-reka's Instagram!
If you have any questions or ideas regarding EU-reka, please contact her at secretary@eureka-uva.com. She looks forward to speaking with you, whether in person or online!
Laszlo Szilard
Treasurer
Szilárd László is the Treasurer of EU-reka for the academic year 2022/2023. Having finished his LLB in International and European Law at the University of Groningen, and an LLM in Competition Law and Regulation, he now studies in the programme European Private Law. His main responsibility lies in overseeing the financial matters of the organization and ensuring that we have the necessary funding for our events.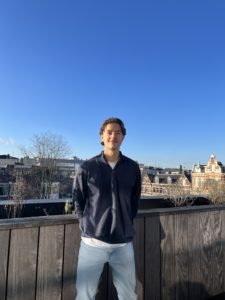 Justin Heijmans
External Affairs Commissioner
Justin Heijmans is the Commissioner for External Affairs on this year´s board. Having acquired a double bachelor´s in Law and Tax Law at the Erasmus University, he is currently following the European Competition Law and Regulation track. Concentrating on the external relations of the association, he tries to bridge the gap between student and practice. Getting students into contact with future employers through work visits, job fairs and the annual Brussels trip. He is looking forward to meeting you at one of the career events!